Ence, the largest private forest manager in Spain
Management of forest areas, research applied to species-specific yield coefficients, their cultivation, care and maintenance for wood and biomass extraction are our main forestry activities.
Main objectives of our forestry activity

Development of wood and biomass productive capacity

Maintenance of direct and indirect environmental values (biodiversity, soil, air and water quality, etc.)

Development of the surrounding areas (job creation and income distribution, promotion of forestry sector, etc.)
Forest management in figures
Ence manages more than 64,000 ha in Spain. Around 71% has been allocated to the production of wood for pulp, and 22%, (around 14,166 hectares) has been allocated to the protection and conservation of ecosystems.
Ence's forest assets in Spain are certified by any of the most advanced international standards in forest management and traceability and custody chain, such as the PEFC (Program for the Endorsement of Forest Certification), with license code PEFC/14-22-00010, and the FSC® (Forest Stewardship Council®) with license code FSC®-CO99970. Ence's commitment to sustainable forest management certification means that more than 83% of its managed forest area is under the scope of one or more of these certification schemes.

Boosting forest certification

Maintenance of enviromental values (biodiversity, soil quality, etc)

Support for forest owners

Forest R&D&i and biological fight against pests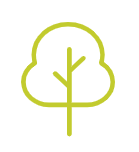 Development of productive capacity

Protection of species and habitats
66.262
hectares of forest stands managed by Ence (2022)
22%
around 14,166 hectares dedicated to protecting and preserving ecosystems