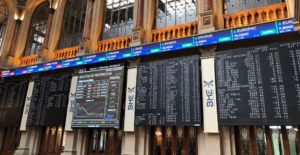 The Technical Advisory Committee (CAT) of the IBEX 35 has selected Ence – Energía y Celulosa to become part of the selective stock market. The decision, based on liquidity, capitalization and stability criteria, will allow Ence to trade in the select group of companies with the highest liquidity in the Spanish stock market, and thus offer greater attractiveness to its investors thanks to the foreseeable increase in its volume of negotiation.
Ence, a leading company in the production of eucalyptus pulp and a leader in renewable energy with biomass, which offers one of the highest dividend yields of the Spanish stock market, will make its incorporation into the IBEX 35 effective on December 24th.
Ignacio Colmenares, CEO of Ence, said that "having a position among the 35 companies with the highest trading volume in the country is an important step for Ence in the face of the new strategic phase facing the company, as well as the recognition to the successful execution of the 2016-2020 Strategic Plan that we have managed to finish a year in advance on the deadlines that we had set. "
Ence has completed in advance this exercise the objectives that had been proposed in its Strategic Plan 2016-2020, so it has just presented a new Plan that will guide the strategy of the firm in the period 2019-2023. The new strategic plan, presented last November, contemplates an investment of more than 1,100 million euros to increase and diversify its pulp and renewable energy businesses.
The investment, which will include significant improvements in sustainability and environmental excellence, will allow EBITDA to reach 550 million euros within five years, at constant pulp prices. In this way, Ence expects the pulp business to increase its EBITDA to 400 million euros, and that of energy to 150 million euros in 2023.
The plan will be executed in phases, adapting to market conditions. In any case, the indicated investments will respect the maximum leverage levels established by the company after the payment of 50% of the net profit in dividends: 2.5 times EBITDA in the Pulp business and 4.5 times in the Renewable Energy business.